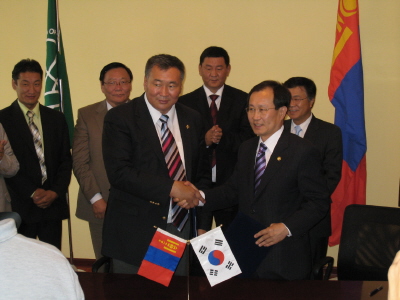 Minister of Environment, departed for environmental diplomacy for enhancement of environmental cooperation in Asia and attraction of international Expo in Yeosu
Lee, Chi-Beom, Minister of Environment, departed for Mongolia and Thailand, on August 4th, to hold bilateral meeting with his counterpart of Mongolia, Mr. I. Erdenebaatar on enhancement of environmental cooperation, and to participate in the Ministerial Regional Forum on Environment and Health held in Bangkok, Thailand.
At the Environment Ministers Meeting between Korea-Mongolia, the both Ministers signed the "Arrangement on cooperation in management, research and protection of natural protected area."
In addition, the both Ministers discussed how Mongolia, the major origin of dust and sand storm(DSS), would participate in the international cooperation on DSS.
They discussed that, i) both countries cooperate to make success in promoting "Greenbelt Plantation Project Plan (2005-2035)" lead by the Ministry of Nature and Environment of Mongolia; ii) both countries cooperate in ADB-GEF project; and iii) Mongolia might participate, as an observer, in the TDGM on DSS held in Tokyo in coming September.
Minister Lee also participated in and gave opening remarks at the 4th Transboundary Environmental Impact Assessment Training Workshop in Northeast Asia to encourage the participants.
On August 7th, Minister Lee departed for Bangkok, Thailand to participate in the Ministerial Regional Forum on Environment and Health.
At his keynote speech, he urged participating countries to address environmental problems and prevent health problems and introduced Korea's policies on environment and health.
In addition, Minister Lee had meeting with Minister of Foreign Affairs of Mongolia and Minister of Finance of Thailand to request support Korea's bid to host the 2012 International Exposition in Yeosu